Brooklyn Youth Speak Out Against Gun Violence – Ask For Your Help
16 Ways We Give
Amplifying Youth Voices
Brooklyn's Youth on Racism in the Criminal Justice System | #BHeard
#ChangeTheNarrative
2017 National Crime Victims' Rights Week Theme Video
Chasing News: Sidewalk Saviors
BK Live: Brooklyn At-Risk Youth Advocacy Groups
BK Live: Gun Control and Violence Trends in Brooklyn
Virtual Tour of The Mediation Center with Robert
Change Agent Debbie Griffin

Change Agent Debbie Griffin from Sorrel Brae on Vimeo.
Split Second: A Microcosm of Violence
Youth #BHEARD at BRIC Townhall
BK Live: Healing and Recovery Conference Up
BK Live: Arts to End Violence
Close: Safer Streets
Stop Shooting Start Living Talent Show, 2014
Stopping Shootings in Brooklyn Before They Start
Save Our Streets Crown Heights: Brooklyn Review From Brooklyn Independent Television's Brooklyn Review, episode 265.
The Objective Opinion: Stop Killing Our Hood BRIC Arts Media, familyunification.org
Supporting Young Male Survivors of Violence: 2016 DOJ Webinar featuring Make It Happen. 
The Second Chance NYC In Focus Suvro Banerji and Jackie Mader
Interrupting Violence In Crown Heights
NYC In Focus Suvro Banerji and Jackie Mader See the full article here
S.O.S. Peace March –
October 20, 2011 Photojournalist Lauryn Gyrstle made this beautiful video using her photos and sound bites from the S.O.S. Peace March
S.O.S. Peace March –
October 20, 2011 Below is two-minute footage of the S.O.S. Peace March in the fall of 2011. Hundreds of people walked through the streets of Crown Heights demanding that the community stop the violence.
Save Our Streets (S.O.S.) Crown Heights Peace March 2011 from Micah Weiss on Vimeo.
YO S.O.S. Flash Mob –
October 17, 2011 Youth Organizing to Save Our Streets (YO S.O.S.) surprised the streets of Crown Heights at 5:49 PM on October 17th with a dance to Jay-Z and Kanye West's "Murder to Excellence" in their flash mob on Eastern Parkway. A special thank you to Thaddeus McCants for choreographing this dance.
Hood Hefna "No More Trouble" SOS Edition
Crown Heights rapper Hood Hefna wrote this song for S.O.S. and received first place in the S.O.S. Arts to End Violence video contest.
Counting the Number of Shooting Victims
S.O.S. Outreach Lavon Walker counting the number of shooting victims in Crown Heights North since January 2010 at a shooting response on November 11, 2010.
>Beyond Bullets Short on S.O.S.
No More Guns Part 1
Created by the Pride Youth Development Agency at the WEB center at W.E.B. DuBois high school in 2009.
No More Guns Part 2
Below are images from the completed mural dedicated to the fight against gun violence in Crown Heights. The mural is painted on the wall of the Alternative Learning Center on Brooklyn Avenue, facing Brower Park, and diagonal to the Brooklyn Children's Museum. The mural is the product of a partnership between the Mediation Center and the American Friends Service Committee, New Yorkers Against Gun Violence, Groundswell Community Mural Project, Assemblyman Karim Camara, and the Damon S. Allen Foundation. Sixteen youth and two artists worked over the summer to create and paint the mural. Photos by Hanan Ohayon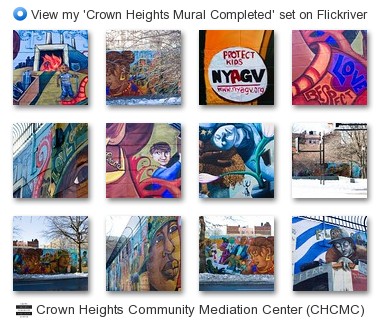 Caught in a Crossfire in Crown Heights
An anti-gun violence documentary created by Kymbali Craig, Bailey's Cafe Youth and students from Paul Robeson High school with support from the Weed and Seed Coalition of the Crown Heights Community Mediation Center in 2008.
Reverend Jones speaks at S.O.S. Crown Heights Shooting Response:
S.O.S. Crown Heights PSA: